Survey-Based Customized Assessment And Advice Service
For software-intensive companies, we provide, based on a self-assessment survey, quantitative insight into the state of your development practices as well as actionable advice on how to improve.
What is it?
Step1: Customized web questionnaire distributed among organization
You can choose which survey dimensions are relevant in your organization.
Just select the topics relevant for you from this list:
Agile practices
Architecture practices - e.g. technical debt management
Continuous integration and testing practices
(Continuous) Deployment practices
Customer involvement practices
Data-driven development practices
Ecosystem engagement practices
Organizational empowerment practices
Step2: Quantitative analysis (report)
a) How your organization is doing now
Quantitative analysis how your organization is doing in selected dimensions. Below is an example graph showing quantitative results (scale 1-5) within five different dimensions.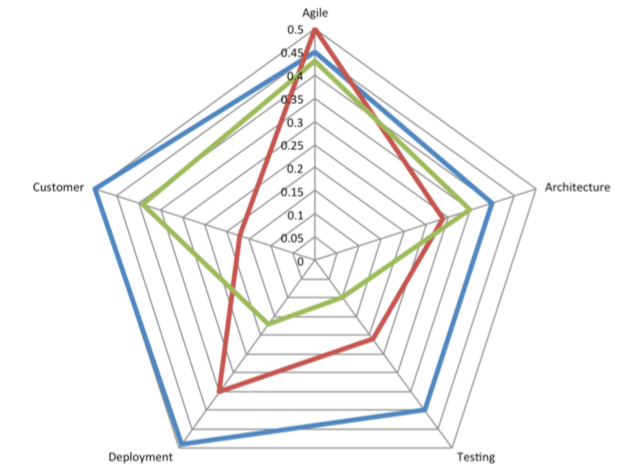 b) How your organization is doing compared to other similar companies
Anonymous data collected over the years is used to show how your organization is doing compared to other companies, similar to your organization.
Below is an example statistics of deployment practices within a group of companies.

c) How your organization is doing since analysis was last made?
If you perform this survey regularly e.g. once a year, you can follow up how your improvements are affecting efficiency of the organization in time.
d) What actionable recommendations do we advise you to focus on now?
Based on decades of research and experiences from dozens of other companies, we provide you with advise on the next steps to take in order to improve your development practices.